"Moby Shinobi: Ninja on the Farm" is my first author/illustrator book (released on Dec. 27, 2016) and book one in my series with Scholastic. This has truly been a lifelong dream to work with Scholastic, and has far exceeded that dream with each step of this adventure. I wanted to share those steps with you here as I celebrate Moby's debut. Which really began all the way back in 1986 ...
Yep, I was even sporting a beard in 2nd grade. It was during those grade school years, that I would look through the Scholastic Book Club flyers, wishing I could order every book for my collection. These books were mostly How to Draw, Choose your Own Adventures, Disney, Muppets and Garfield books. With each book order that arrived, my love of books grew stronger, equal to my love of drawing. At that time I began dreaming of being an artist and wishing that one day I would have a book in the Scholastic flyer! Jump ahead nearly 30 years to my first trip to the SCBWI New York conference in February, 2015.
During the conference we had the chance to share our portfolio with hundreds of editors, art directors and publishers. It's truly a unique and cherished opportunity I look forward to every year now. I left a stack of postcards by my portfolio hoping that one of the images would catch the eye of a publisher and lead to a unique book project. After the event I returned home to my creative cave, highly inspired and grateful for the connections with fellow creatives from around the country. I was wondering what may come from the event with each passing week. Then on March 3, 2015, I got an e-mail that nearly knocked me out of my drawing chair!
The e-mail was from Samantha Swank, an editor at Scholastic! Her supervisor, Katie Carella, had picked up my postcard (spy kid shown above) at the SCBWI NY conference! They had been wanting to do a book series about a ninja, and Samantha said, "Your sneaky ninja looks just like what we've been looking for!" I sat back in my chair, after a crazy celebratory dance, and responded that I'd be absolutely thrilled to work with them! They also asked if I'd be interested in writing the series. CELEBRATORY DANCE repeated! I replied that I'd been wanting to do more writing and this would be the perfect challenge to fill both author AND illustrator roles!

2nd grade me was dancing wildly through my mind! Nearly 30 years later, the dream was coming true! Now modern day me was dreaming again, this time that my Scholastic books would connect with young readers and inspire them to pursue their dreams, maybe even create books with Scholastic! I couldn't thank Samantha and Katie enough for inviting me to be part of this series and helping me achieve this lifelong dream.
The first step was developing the ninja book series idea. I put together 3 book concepts, with characters and story overviews. The first was a book about a ninja from earth, that meets a ninja from outer space, and together they help each other solve problems on one another's planets. The second book was about a ninja that tried to sneak up on mythical and legendary creatures/beasts to snap a photo and tell their true story. However in the midst of the action the ninja would discover the creature/beast could use his ninja skills to solve a problem. In the end the creature/beast would end up "accidentally" breaking the camera everytime.

The third concept was a ninja named "Moby Shinobi" that visited various job sites to offer his ninja skills and help for the day. However he quickly realizes that ninja skills don't always apply to every job, and makes a mess of everything. Until an emergency arises and his ninja skills end up saving the day!

This idea was a hit with the Scholastic team, and Moby was on his way to his first adventure. We began developing the concept further with a more in-depth story overview, and a list of various locations Moby could visit. A farm was my first choice, as a tribute to my childhood home and growing up on a farm.

The book series is for Level 1 Readers (K-1st grade) and written in rhyme. So this had its unique challenges, but also made me appreciate this level of readers all the more! This certainly was an eye opening process for me as a first time author, but I couldn't have asked for a better book series and team to develop my writing skills with!
On Sept 15, I submitted the first draft of "Moby Shinobi: Ninja on the Farm" (book #1 in the series). A few weeks later, my wife (Tessa) and I headed out to New York for our 15th anniversary trip, and planned a visit to the Scholastic office to meet with "TEAM MOBY" (Samantha Swank, Katie Carella, Steve Ponzo and Patti Ann Harris). It was a key part of the process to get to meet face to face, talk about the book series and even brainstorm about the first draft. I loved having Tessa there to brainstorm with because she has been a huge part of the creative journey and pursuing this dream. We left the meeting even more inspired about the book series and the amazing team of creatives working on Moby. This was a highlight of our first New York trip together and a sweet addition to the anniversary celebration!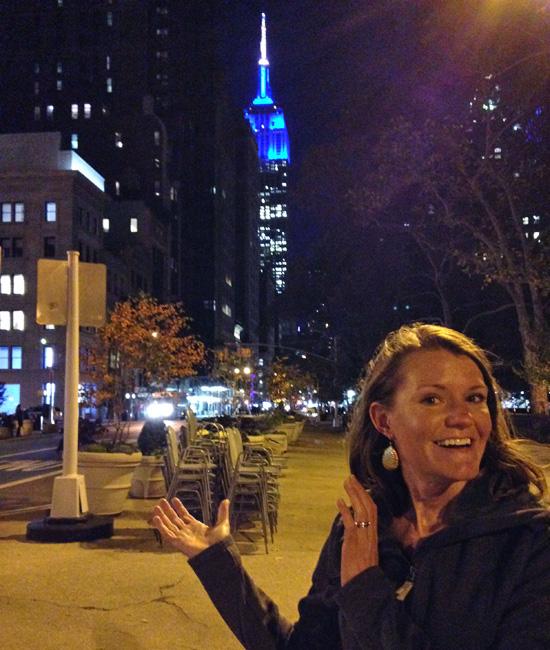 Over the next year and a half I worked on finishing book #1, the bulk of that time working on the illustrations. 32 pages of non-stop ninja fun! I learned so much about the entire process of writing and illustrating with Scholastic over this time. Samantha and Katie never ceased to amaze me with their ideas, edits and helping find the right balance of words. Steve was a constant source of inspiration fuel with his feedback on the illustrations, and working on the design of the book. Watching Moby come to life has been one of the most cherished creative journeys of my career. We all fell in love more and more with Moby as each page was completed!
On June 30, 2016 I submitted the final art for book #1. Though I'd dreamt of that moment since I was a kid, it still felt truly surreal. I couldn't wait to start sharing Moby with family, friends, and fellow book lovers of all ages! Moby Shinobi was set to release on December 27, 2016. And it couldn't come soon enough ...
During the process of writing and illustrating "Ninja on the Farm", I was also writing book #2, "Moby Shinobi: Ninja in the Kitchen". I had an absolute blast not only celebrating my favorite food, but also building on the character of Moby, and the wacky antics he brings to his world. The pizza shop setting made for some really fun scenes to write and illustrate. I submitted the final draft on June 28, 2016 and final art for book #2 on Sept, 28, 2016. It had been a wild summer/fall season in the creative cave to say the least. Moby was well on his way to some ninja-rific adventures!
In October, Scholastic offered me a book deal for Book #3! This was no trick, ALL TREAT! I started writing Moby's third adventure while planning promotional pieces for Moby's big debut on December 27th! Though I was in the midst of the busiest year in the creative cave, I was more inspired than ever for the mega Moby months ahead!
December was a wild month as I worked on wrapping up the biggest year of work in the creative cave. I created a few Merry Moby promotions to celebrate the release of Book #1 and had fun tinkering with a bit of animation. With the release of "Ninja on the Farm" only a few days after Christmas, this truly was the best Christmas present I could've ever asked for!
When the advanced copies of book #1 arrived, I held them in stunned, surreal amazement. I felt a deep gratitude for my family's support of this dream and for the incredibly talented TEAM MOBY that helped make this milestone a reality. All the work that had gone into creating Moby over the past 2 years was finally in my hands, and I couldn't wait to sit and read it with my own children.
Having my three children celebrate this journey every step of the way, has been the undercurrent of inspiration that has fueled the dream onward. Since the moment I got the e-mail invitation to create this series, they have been my most energetic fans. They knew how long I'd been dreaming of this opportunity and were equally excited to see Moby come to life. I would share each draft with them to get their feedback. If they laughed in the right places, I knew it was working. They are a key part of TEAM MOBY!

I feel deeply blessed when they share how my creative journey and work has inspired them to pursue their own dreams of writing, and creating. During the process of creating "Moby Shinobi", my middle daughter asked if we could start developing a book series together based on a drawing I'd done on one of her school binders. This has been such a joy to work on with her, and I can't wait to see where this idea goes! For now, it was Moby's big day, and celebrating it as a family was a moment I will cherish forever.
Here are a few moments from Moby's first adventure. To read the full story, please purchase it through the Scholastic store, the Scholastic Book Club flyer, or from your local bookstore or Scholastic Book Fair. Moby and me greatly appreciate your support!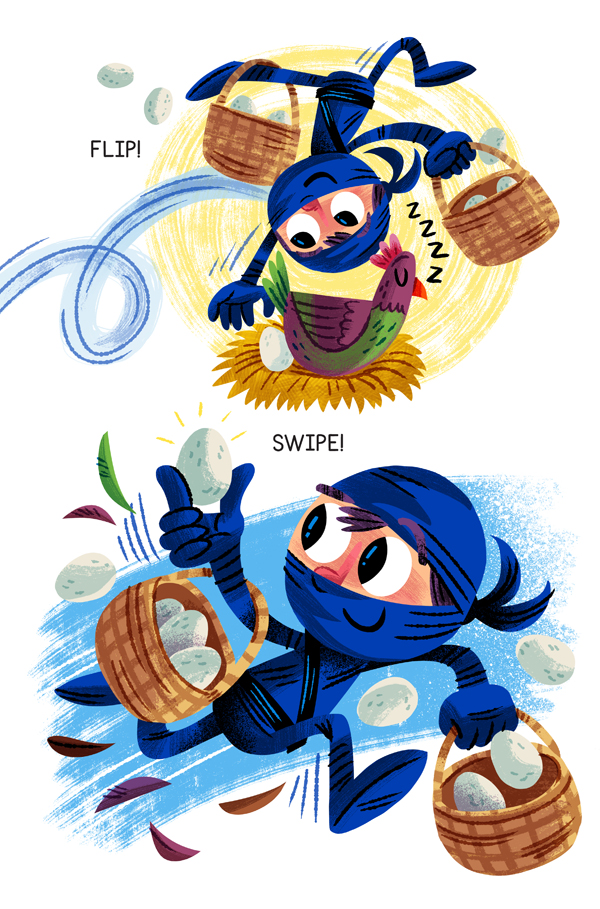 One more "lifelong dream achieved" was having "Moby Shinobi" Book #1 in the Kindergarten and 1st grade Scholastic book order flyers. This was a moment I had dreamt of since my grade school days, and holding a flyer that had a book that I had written and illustrated, took me right back to my childhood ritual of pouring over the Scholastic flyer, wishing, dreaming, creating. I thought of the kids that would find Moby in their flyers, and hopefully make him part of their orders. I thought of how those kids would read, dream, and create their own stories. This is one of the greatest gifts of working in children's books. Knowing that you are helping inspire a child to not only embrace the joy or reading, but also plant seeds of dreams that keep the circle of inspiration rolling onward!
I was absolutely amazed when Scholastic shared that their Book Fairs developed a book trailer for "Moby Shinobi: Ninja on the Farm"! The creative cave was buzzing with inspiration overload! Check out the trailer by clicking here
In November, I had hired my multi-talented friend Alex Glenn Bash of Friend or Foe puppet studio to create a "Moby Shinobi" puppet. Alex went beyond all expectations with the way he brought Moby to life and even created some wonderful weapons for Moby to hold. When he shared the first photos of the completed Moby, I couldn't wait for him to arrive state side!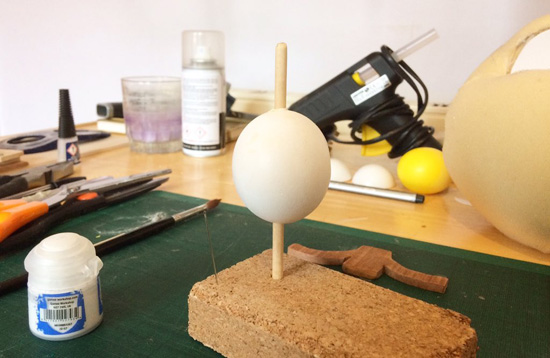 When Moby arrived we all instantly loved the lil' fella. I only had a few days before the book launch to get to know him and give him a voice. I'm still getting comfortable with him, and honing his voice, but I'm also very excited to share Moby at book events, school visits, and videos in the year ahead. I also love when my kids ask for a puppet show or want to have Moby play with them. They are amazing at helping me find the right voice and attitude.
A few weeks before the book launch I received a wonderful surprise, when Andrea Offenbecher (a first grade teacher at Rockhill elementary) shared a tweet about how much her class loved Moby and had created their own "My Ninja" stories. She shared all of her creative ninjas stories and artwork with me, which led to some really fun connections with her and her students.
This was the first "fan art" for Moby, and a mighty wind of motivation leading up to the book launch. I asked Andrea if I could adapt her "My Ninja" story concept for the school visit I had planned for the following week. She generously agreed and her idea inspired a library full of creative ninjas here in Colorado too. Moby was helping connect kids across the country! This story even made a little feature in their local newspaper.
Another BIG THANK YOU to Andrea Offenbecher and her creative ninjas at Rockhill Elementary! I look forward to sharing more of Moby's adventures with them this year!
As I worked with the amazing staff at Barnes & Noble, and my friend Shannon Hoggan Bailey to plan the book launch, we connected with The Classical Academy here in Colorado Springs. The book launch party would also serve as a bookfair to benefit the TCA library! I was so excited to know that the launch of Moby's first book would give the students of TCA more books for their library too!
The week before the book launch, I visited the TCA library to share Moby's story with over 400 students! I shared my story of how I'd dreamt of creating books when I was their age, and how working with Scholastic had helped make that lifelong dream come true. I encouraged them to never doubt their dreams or abilities, and never give up on their pursuit of reaching them. You truly never know where those dreams will take you in life. I'm certainly grateful I've had the support and opportunities to pursue mine. I loved cheering them on as they shared their dreams with me.

The students then had the chance to write and illustrate their own "My Ninja" stories. I included a Moby sticker if they wanted to incorporate him, or create their own ninjas. They all came up with some very clever and unique creations. Just like the Rockhill creative ninjas, the TCA ninjas were wildly excited to create their own stories, and share them with me. I'm always blown away by the unbound imagination of children's creativity! Here are a few of my favorites from the bunch: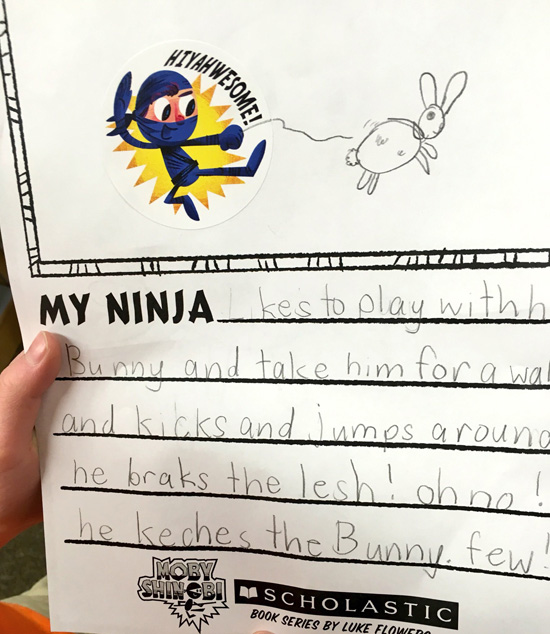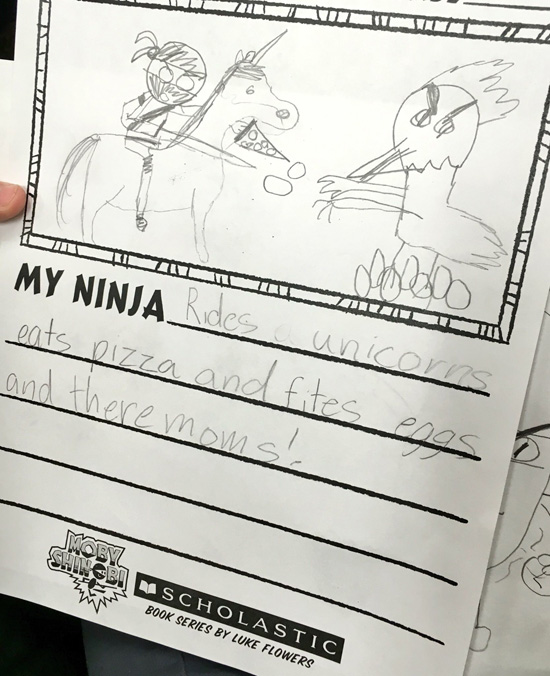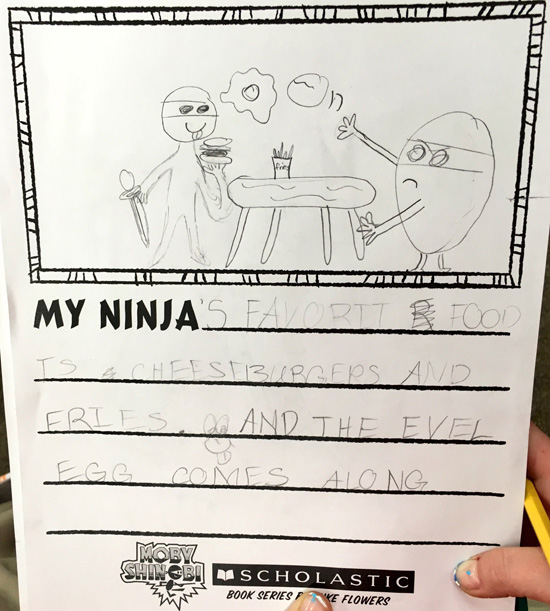 Afterward I loved hearing students excitedly come up and share that they too had "authored" several books, were working on a book or just loved to draw all the time too. This is at the very core of why I find such joy and inspiration in visiting schools. I hope to do even more visits in this year, and travel outside CO for them too.
The rest of the week was spent creating "Moby Shinobi" magnets, buttons, posters, and a Magnetic Moby activity for the book launch event (along with stickers and prints as prize giveaways). I couldn't have pulled this off without the help of my amazing family. The way my family embraces this dream never ceases to humble, inspire and fill my heart with gratitude. We watched movies and made buttons late into the night before the book launch ...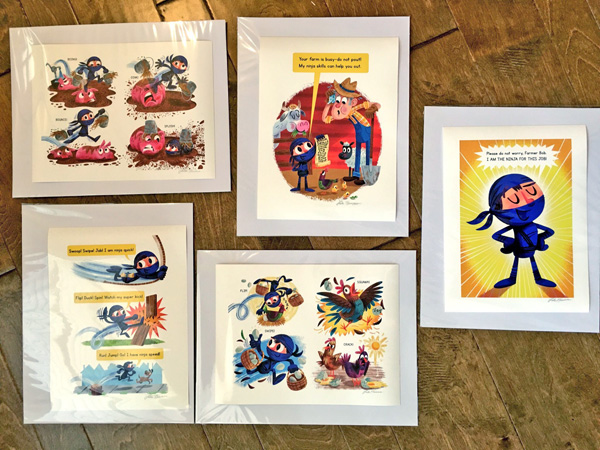 Finally the BIG DAY arrived, and I couldn't wait to celebrate Moby's first adventure with my friends, family, the TCA community, and fellow book lovers at Barnes & Noble. Almost 2 years since the invitation from Samantha & Katie to create a ninja book for Scholastic, I was once again deeply moved to reach a new milestone with Moby.
The turnout for the event left me feeling even more blessed and thankful. Far exceeding my expectations once again! The excitement for Moby's debut book and the encouragement for the milestone will be a moment I will deeply cherish and find great inspiration from as Moby and I journey onward.

During the party, I shared the story of how Moby came to be with Scholastic, and then read the book with Moby as he commentated on the adveture. Then Moby shared his ninja drawing skills, and we all practiced drawing ninjas together. We wrapped up the event by making a magnetic Moby as I signed books. Getting a chance to chat with the kids as I drew their favorite farm animal as a ninja in their book was the highlight of the day. I'm so thankful to the Barnes & Noble crew for helping make inspiring events like this possible. There is truly something magical about children laughing, creating and wandering wide eyed amidst a world of books.
None of this would have been possible, without the love, support and cheers of my family. Tess was beaming with pride, and equally amazed by the turnout and support. Seeing the joy my kids had as they helped and joined in the fun is a sight I will always treasure and the fuel that drives me onward.
As I look back at this delightful day, I love the way this photo captured a moment that brought another childhood dream of mine to life. It must have been how my lifelong creative hero, Jim Henson, felt the first time Kermit came to life and the creator and creation connected. Bringing Moby to life through story, illustration, and puppet form intertwined three dreams into one magic moment. To see that bring a smile to the kids' faces is exactly how I felt the first time I watched Kermit & the Sesame Street gang. I know I will never be the puppeteer and creative giant Jim Henson was, but I will always be a fellow dreamer that, to quote Jim, "hopes to leave the world a bit better than when I got here."
As I left the Barnes & Noble children's book area, and saw the little kiosk of my books from the past year, I thought back to how only 2 years ago, I was dreaming of one day having a single book on the shelf of my favorite bookstore. I looked around and saw books by many of my fellow creative friends that have inspired me so deeply on this journey. I held the hand of my daughters as they talked about how much fun the day had been and how excited they were to read the new books they found that day. These are the pieces of this story that remind me of what an absolute honor it is to create books - to be part of this community of storytellers, book lovers and lifelong dreamers.
The next steps on this incredible journey with TEAM MOBY and Scholastic, will come with the release of book #2 "Moby Shinobi: Ninja in the Kitchen" on sale July 25, 2017! I've written the 3rd book in the series, and am currently working on the illustrations for it this Summer. Book #3 will be released Dec. 2017! I will have more Moby updates from the Spring/Summer events so be sure to check back with MOBY SHINOBI. We have a lot to celebrate!!
I can't wait to see where Moby's adventures lead me over the next few years, but even more I'm excited to see how Moby connects with fellow creative ninjas and book lovers of all ages. I hope that the circle of inspiration continues to roll onward with each reader, and that one day they would be sharing their story, thinking back to the days they first planted those seeds of that dream. I'm forever grateful for each friend that has journeyed along with me and helped bring a childhood dream to full fruition!

Onward dreamers we go.